Functional teams make higher-quality decisions and accomplish more in less time, with less distraction and frustration. To overcome problems on a team, the team must be willing to invest time, energy and discipline. For those teams willing to do what it requires, the reward is great.
Workshop Summary: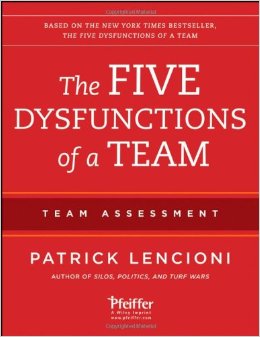 This workshop is based on the book/work of Patrick Lencioni
Workshop Objective:
To Make Substantial Progress Towards Becoming a More Cohesive Team
Improve Organizational Performance and Team Members are Able to Work Together Towards Common Goals
Increase Employee Morale
Reduce Employee Turnover
A Reduction in Unproductive Interpersonal Conflict
Workshop Format:
PowerPoint Presentation
Team Assessment (Maybe Completed Prior to Training)
The Five Dysfunctions of a Team
Opening the Workshop
The Five Dysfunctions Model
Team Assessment Results
Fundamental #1 – Building Trust
Behaviour Profile Exercise
"…teamwork begins by building trust. And the only way to do that is to overcome our need for invulnerability."
Fundamental #2 – Mastering Conflict
Conflict Norming Exercise
Conflict Resolution Exercise
"Trust is important for a very practical reason: without it teams cannot and probably should not, engage in productive, ideological conflict."
Fundamental #3 – Achieving Commitment
"When people don't unload their opinions and feel like they've been listened to, they won't really get on board."
Fundamental #4 – Embracing Accountability
Team Effectiveness Exercise
"People aren't going to hold each other accountable if they haven't clearly bought into the same plan."
Fundamental #5 – Focusing on Results
"Our job is to make the results that we need to achieve so clear to everyone in this room that no one would even consider doing something purely to enhance his or her individual status or ego because that would diminish our ability to achieve our collective goals. We would all lose."
Quotes – The Five Dysfunctions of a Team by Patrick Lencioni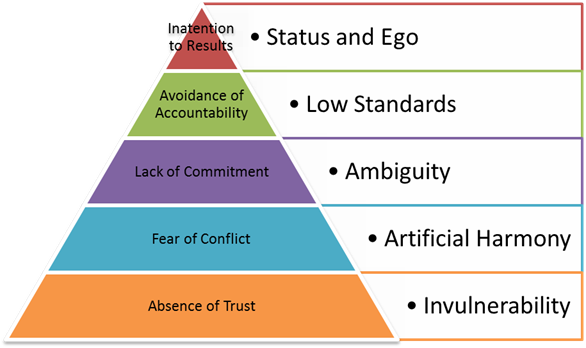 Learning Outcomes:
Understand the Expectations for a Cohesive Team and Understand the Degree to Which Your Team Meets the Criteria Based on The Five
Make Progress on Improving Trust and Conflict, Commitment, Accountability and Results (With Focus on Commitment)
Target Audience:
This session is suitable for all managers, team leaders and team members.
Groups of 5 – 15 people in each session. (Please contact me for information on larger groups.)
All programs are available to be delivered at your site or a training room can be provided for 15 participants on the dates you prefer.
Cost:  $900.00 per person
Additional expenses for your organization include my travel costs from Medicine Hat to your location and return to Medicine Hat (flights or mileage @ $0.68/km), accommodations (to be booked by your organization), cab or pick-up to/from airport and a meal allowance of $75.00/day.